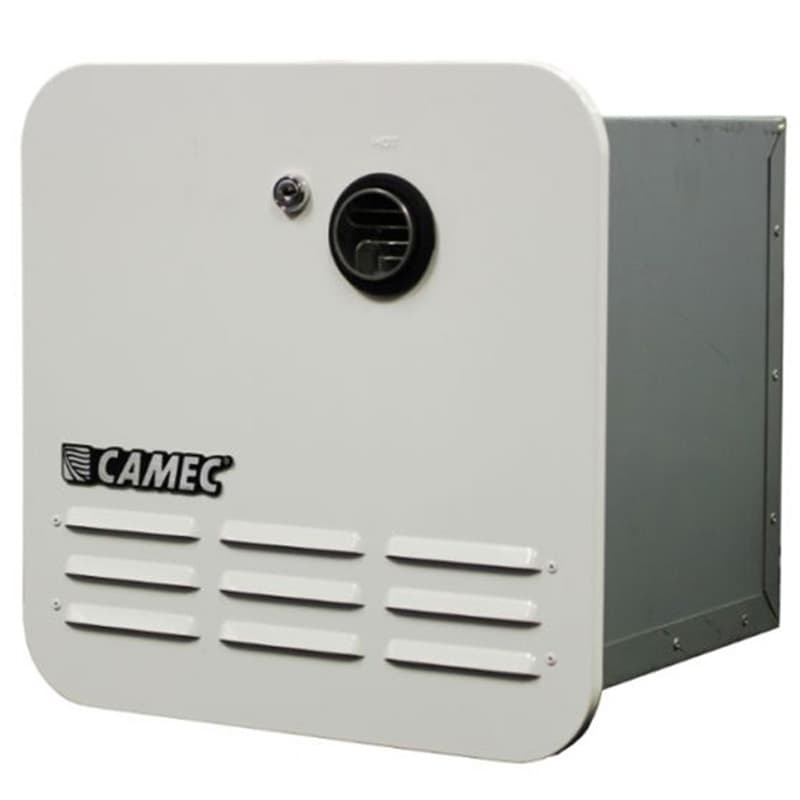 Camec Digital Instantaneous Gas Water Heater
The Camec European Designed Instantaneous Hot Water Heater system is an economical solution to supply constant hot water in your motorhome, caravan or tiny home. Unlike a traditional hot water cylinder that draw massive current due to their use of an element, the clever design of this system means it can operate for hours at maximum heating capacity from a 9kg gas bottle! The digital controller gives you flexibility to set your desired water temperature plus peace of mind knowing the water temperature can be controlled so it will not be too hot for children as well as saving you gas.
One of the main advantages of an instantaneous water heater is that gas is only used when water flows (the water heater is activated by the flow of water through the system). In other storage tank systems, energy is required constantly to keep the water at the desired temperature. With an Instantaneous system, you are able to use all of the available water in your water storage tank (with a hot water cylinder, you can't use the remaining stored water if the water tank is empty).
The remote digital display not only allows you to set your desired water temperature, it also can turn the unit on and off, displays the current water temperature as the water is flowing plus it displays system error codes when required for simple problem solving. Also features: Low power and gas usage, system stores the last selected water temperature setting even when powered on and off, digitally monitors incoming water temperature, water flow and output temperature.
NOTE: Water temperature depends on flow rate. The higher the flow rate, the lower the water temperature. This unit is designed to increase the water temperature by approximately 37C, at a flow rate of 3.3 litres per minute and is recommended to be used in conjunction with a low flow shower head. It is not designed to be connected to mains water pressure or used with a high flow pump or shower head. This provides an important water and gas saving feature, especially suited to freedom camping.

FEATURES
Designed specifically for RV use
Australian Gas and Watermark Approvals
Operates from 12V DC & Gas
Continuous hot water flow
Remote digital temperature controller with error code display and on/off switch
Up to 60% less gas consumption than regular tank models
No anode to replace
Easy to install and suits most existing water heater cuts outs
Patented rain protection exhaust